Søren E. Pischke received a prestigious honorary award
Award and honour to Søren E. Pischke.
The NCRG group member, anaesthesiologist, and critical care expert, Dr. Søren Pischke, has recently been awarded the prestigious bi-annual honorary award by the Norwegian Society of Anaesthesiology. This recognition comes as an evidence of Dr. Pischke's exceptional dedication and enduring passion for the field of Norwegian and Scandinavian Anaesthesiology and Critical Care.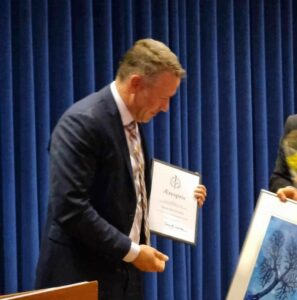 Dr. Pischke's societal journey spans several years, notable appointments, and exceptional contributions to the Norwegian and Scandinavian society of anaesthesiology and intensive care. He has served as a union representative for the Society from 2006 to 2008 and as a Board member and treasurer for the Norwegian Society of Anaesthesiology from 2008 to 2013. Dr. Pischke is also a Board member of the Scandinavian Society of Anaesthesiology and Intensive Care Medicine (SSAI) since 2012.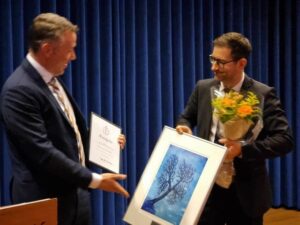 He has played a crucial role as a webmaster from 2015 to 2019, and has been managing the Acta Anaesthesiologica Scandinavica Foundation as its director since 2018. Dr. Pischke's contribution towards the ICU advanced educational program for the SSAI has also been significant, as he has served as a leader of the Norwegian course and steering committee member. Dr. Pischke is an associated editor and assistant Editor-in-chief at Acta Anaesthesiologica Scandinavica.
Upon receiving the award, Dr. Pischke expressed deep honor and humility. He also encouraged young professionals to get involved and make their own contributions towards the growth and development of the discipline.
The NCRG places great emphasis on connecting dedicated scientific research to practical clinical applications, underscoring the significance of contributing to society. It gives us immense pleasure to extend our warmest congratulations to Søren Pischke for being given this award.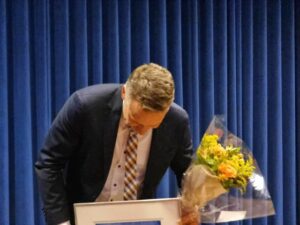 Thus, with flowers we thank you, Søren, for your invaluable contribution to the NCRG!
On  behalf of NCRG
Tom Eirik Mollnes