Viktoriia Chaban defended her PhD
MD Viktoriia Chaban at Institute of Clinical Medicine defended her thesis "Innate immune responses to sterile inflammation after acute brain injury and cardiac arrest. Clinical, methodological, and experimental considerations" for the degree of PhD (Philosophiae Doctor) Jan. 25, 2023

Viktoriia Chaban  (Photo: Åsne Rambøl Hillestad, UiO).
She was recruited as a student from Ukraine and joined the NCRG in 2018. She got a PhD grant from "Hjerte-kar rådet, Nasjonalforeningen for Folkehelsen" and  her main supervisor has been Søren E. Pieschke, MD, PhD, Senior Consultant and deputy of NCRG.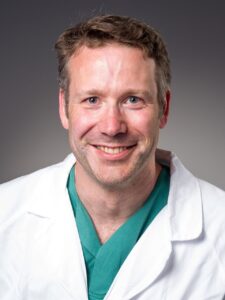 Søren E. Pieschke
Viktoriia Chaban was co-supervsied by Jarle Vaage, Rakibul Islam and Tom E. Mollnes.
The PhD evaluation committee was:
First opponent: Professor Michael Kirschfink, Heidelberg University, Germany
Second opponent: Postdoctoral Researcher Anne Rosbjerg, University of Copenhagen, Denmark
Third member and chair of the evaluation committee: Professor Guttorm Haraldsen, University of Oslo
The Chair of the Defence was Prof. Per Steinar Halvorsen, University of Oslo.
The title of her trial lecture: Complement deficiencies: pathophysiology and diagnostics"
Viktoriia performed very well both with the trial lecture and subsequent opposition.
In the evening she invited to an extraordinary nice dinner and celebration at Hotel Scandic Solli.
The NCRG congratuale Viktoriia with her PhD and wish her all the best for the future!
Photos below kindly provided by Beatrice Fageräng, NCRG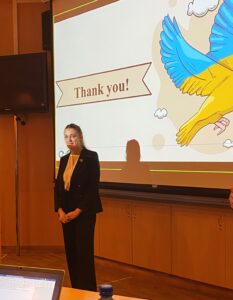 Viktoriia Chaban completed her Trial Lecture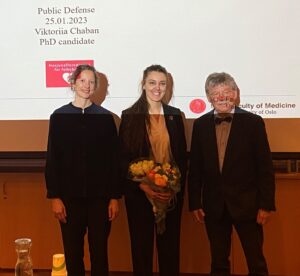 Defence completed: Anne Rosbjerg (2nd opponent), Viktoriia, and Michael Kirschfink (1st opponent)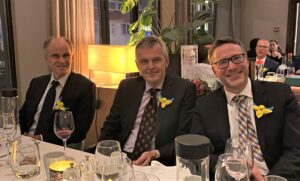 Dinner at Scandic Solli. From left: Steinar Halvorsen (Acting Dean), Guttorm Haraldsen (committee leader) and Søren E. Pischke (main supervisor).